SonKim Land with The Galleria Residence project has been honored as "Best Boutique Developer", "Best Luxury Condo Development (HCMC)" and "Best Luxury Condo Interior Design" at the 5th Vietnam Property Award. The company has also been chosen to receive "Special recognition in CSR", to honor its continuous contribution to society and quality improvement of life where it operates; "volunteer house construction" and "green day at workplace" for instance. This huge success is a strong affirm for the reputation of SonKim Land in the real estate market, as well as its exemplary achievements in community-building and public facility.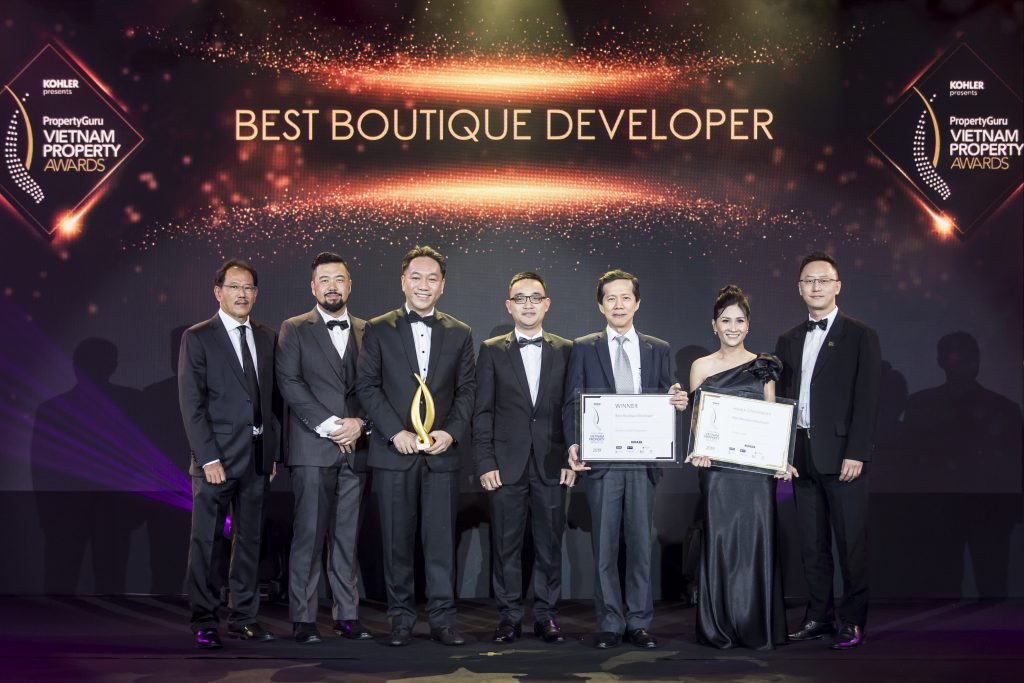 The Galleria Residence is the outstanding part of the Metropole Thu Thiem project surrounded by all new iconic landmark buildings and public attractions and be the convergence of cultural, artistic, technological and entertainment trends in Ho Chi Minh City, Vietnam. It takes the artful spirit from the nearby Convention Center, Opera House and Center Square, Riverside Park and translates them into modern and, artful design. Facilities of the Galleria Residence are abundant such as a sculpture garden, infinity river view 50m lap pool, outdoor Jacuzzi, floating massage pavilion, sun bathing deck, kids' water park, parenting area by the outdoor playground, a BBQ garden and a pool-side gymnasium, definitely bring comfort and enjoyment to its residents. SonKim Land has engaged outstanding international consultants to set global standards of space, comfort and security. The Galleria Residence was also garnered "The Residential High-rise Architecture for Vietnam" and "Condominium/Apartment for Vietnam" title at the reputable Asia Pacific Property Awards 2019.
"We are very pleased to be in the top winners and earn three prestigious titles with The Galleria Residence at The Vietnam Property Awards 2019.   From the location, design, and material/equipment used for The Galleria Residence will be a one of a kind in Vietnam, and the market has responded accordingly.   The project is truly a stunning masterpiece in the real estate luxury segment and has helped SonKim Land to receive the "Best Boutique Developer" awards for 2 years in a row.  We're also very proud of "Special recognition in CSR" as one of the most active companies in Social Responsibility. These awards demonstrate our commitment to create long-term value and best quality of living to our loyal customers and community", Mr. Andy Han Suk Jung, Chief Executive Officer of SonKim Land shared.
The Vietnam Property Awards is the biggest and most credible award in the Vietnam real estate industry. This year, more than 20 developers from Ho Chi Minh City, Hanoi, Halong Bay, Cam Ranh and top investment locations made the cut, following the rigorous nominations, judging and site inspection stages as conducted by an independent panel of experts. All stages of the judging and site inspection process were supervised by BDO Vietnam, one of the world's largest networks of accounting and auditing firms. 
—————————————————————————–
About The Vietnam Property Awards 2019
The Vietnam Property Awards is part of the regional PropertyGuru Asia Property Awards program with was organized annually at Asia countries. Since launching 14 years ago, the PropertyGuru Asia Property Awards series has grown to become the biggest real estate event programme in the Asia Pacific region. 
The Vietnam Property Awards 2019 was organized by Property Guru Media Group (Thailand) to honor excellent projects in Asia based on criteria of quality, architecture and creative interior design, living environment and investment efficiency, which is rigorously evaluated by an independent panel of judges including leading experts in the field of real estate development, architecture, design and consultancy. The professionally run awards system supervised by BDO, the world's fifth largest auditing and accountancy firm.
About SonKim Land
As the Pioneer in the cutting-edged real estate segment, SonKim Land focuses on delivering a differentiated living experience. The business strategy of the company is to focus on residential real estate projects, hotels and high-class offices with prime locations, bringing the experiences of uptown lifestyle to high-class residents.  
For more details, please visit www.sonkimland.vn